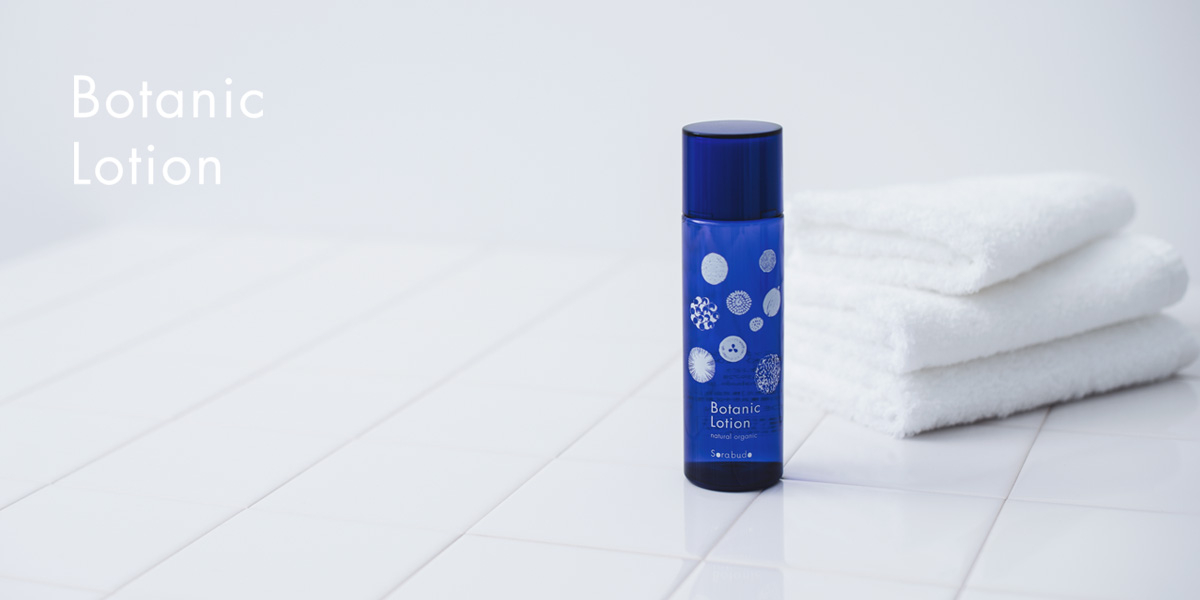 This lotion envelops the skin in moisture and nutrients, helping to maintain the skin's original healthy functionality.
The majority of materials selected for our lotion are organically cultivated or JAS certified. Also, in addition to the use of our many original components, such as grape yeast extract*1, we also incorporate the use of nanotechnology and ultrafine particle manufacturing technology to achieve further penetration into the skin*2. The power of 100% natural ingredients and the technology to ensure that the active ingredients are thoroughly delivered to the skin draw out the original power of the skin and create a dermal environment that allows for easier penetration of lotions that are used afterward.
*1 Yeast extract (moisturizing agent)
*2 As far as the stratum corneum


Generously hydrates for moister, softer skin
Similarly to our face masks, our lotion is made with grape yeast extract*1, suizenji-nori polysaccharide*2 and rice bran ceramide*3. We also add ingredients such as sake yeast extract*4 from organic Junmai Ginjo refined sake, crafted by brewers in Niigata Prefecture, to further soften and moisten the skin.
*1 Yeast extract (moisturizing agent)
*2 Suizenji-nori polysaccharide (moisturizing agent)
*3 Glucosylceramide (moisturizing agent)
*4 Rice ferment filtrate (moisturizing agent)

Our in-house manufactured herbal extracts promote tighter, smoother skin
We manufacture and use our own original extracts from mugwort*1, as well as organic JAS-certified ingredients including peppermint*2, lavender*3 and rosemary*4. These help to pull the skin tight, resulting in smooth skin without bumps or depressions.
*1 Mugwort leaf extract *2 Peppermint extract *3 Lavender flower extract *4 Rosemary leaf extract (all moisturizing agents)

Ultra-finely powdered ingredients penetrate the skin*1 more efficiently and effectively
Components such as our mugwort leaf extract*1 and our rice ferment filtrate*2 are rendered into ultrafine powders so as to be absorbed by the skin*3 even more effectively. The oils, water, emulsifiers and cosmetic ingredients*4 (water soluble) for which nanoization is required are of course all naturally sourced. JAS-certified olive oil*5 and soybean-derived lecithin*6 are used as the emulsifiers.
*1 *2 Moisturizing agents
*3 As far as the stratum corneum
*4 Mugwort leaf extract, peppermint leaf extract, lavender flower extract and rosemary leaf extract (all moisturizing agents)
*5 Olive fruit oil (emollient)
*6 Lysolecithin (moisturizing agent)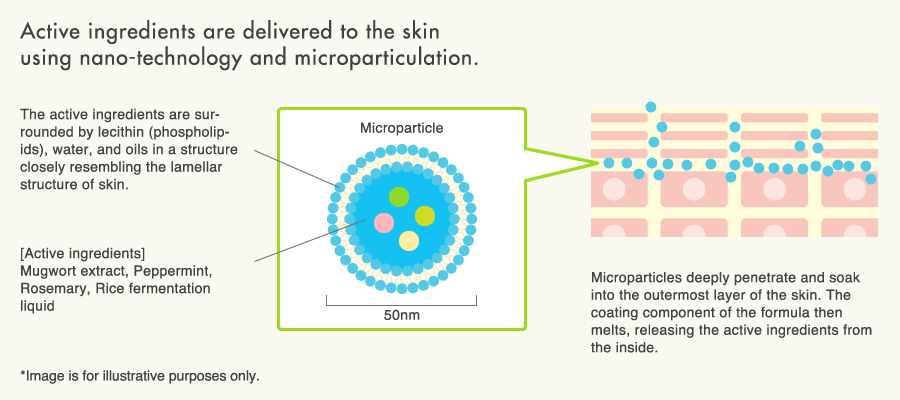 We found the ingredients in nature.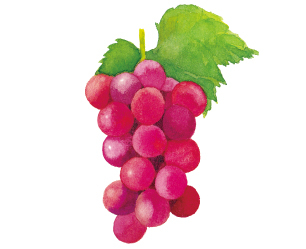 Grape yeast extract (yeast extract)
Each of our products features the use of generous amounts of high-purity grape yeast extract, manufactured at our facilities using red grapes cultivated in the vineyards of Kurume, Fukuoka Prefecture. This extract features a special structure similar to that of the moisture-preserving natural moisturizing factor (NMF) found in the stratum corneum, making it easily absorbed by the skin.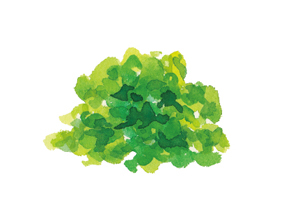 Suizenji-nori polysaccharide
This moisturizing component is extracted from the rare suizenji-nori algae, which, in Japan, can be found growing wild only in the clear streams of Asakura, Fukuoka Prefecture. With nature's highest water retention capacity at five times that of hyaluronic acid, it envelops the skin in a layer of moisture, protecting it against external irritation and drying.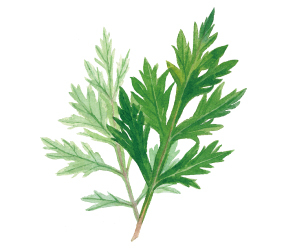 Mugwort leaf extract
made with organically-grown mugwort leaves
Rich in vitamins and minerals, mugwort imbues the skin with rich moisture, nurturing beautiful, consistently-textured skin.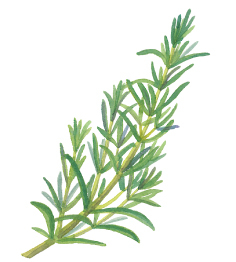 Rosemary leaf extract
made with organic JAS-certified rosemary
In addition to helping to alleviate rough skin and promote skin health, this extract is also effective as a natural preservative.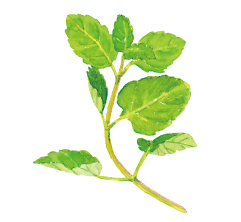 Peppermint leaf extract
made with organic JAS-certified peppermint
[Manufactured in-house] [Organic JAS-certified]
In addition to tightening the skin, this extract acts to help keep the skin clean and regulate texture and also acts as an antiseptic.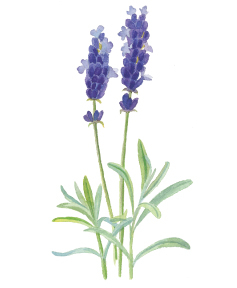 Lavender flower extract
made with organic JAS-certified lavender
This extract not only serves to help alleviate skin roughness and tighten the skin but also relaxes the mind and body with its refreshing scent.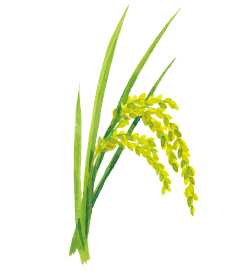 Rice/rice bran ceramides (glucosylceramide)
Intercellular lipids are found within the stratum corneum and is responsible for approximately 80% of the skin's moisture retention ability. The main component among these lipids are ceramides. The power of organic JAS-certified rice-derived ceramides assists in keeping the skin moist and enhancing the effectiveness of its barrier.
Rice ferment filtrate
made with organic Junmai Ginjo refined sake
The sake used for this component is made with organic JAS-certified rice. It nurtures moist and soft skin.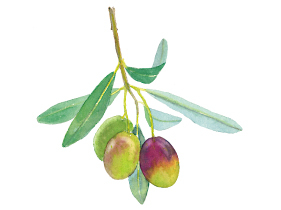 Organic JAS-certified
olive fruit oil
This oil provides moisture and softens the skin. It is also useful in assisting active components in penetrating into the skin.
Botanic Lotion (Facial Treatment lotion) 120 mL
A lotion to help your skin regain its natural beauty
It includes yeast extract (moisturizing ingredient) and a proprietary component* in order to help with moisturization, which is the foundation of a beautiful skin. The moisturizing component is a blend of six ingredients based on organically farmed plants and grains developed in our* laboratories. Ultra-fine ingredient particles are delivered down to the corneum layer of the skin, in order to help it regain its natural beauty, elasticity, and shine.
* Glucosylceramide, rice fermentation liquid, mugwort leaf extract, horsemint leaf extract, lavender flower extract, rosemary leaf extract (all are moisturizing ingredients)
How to use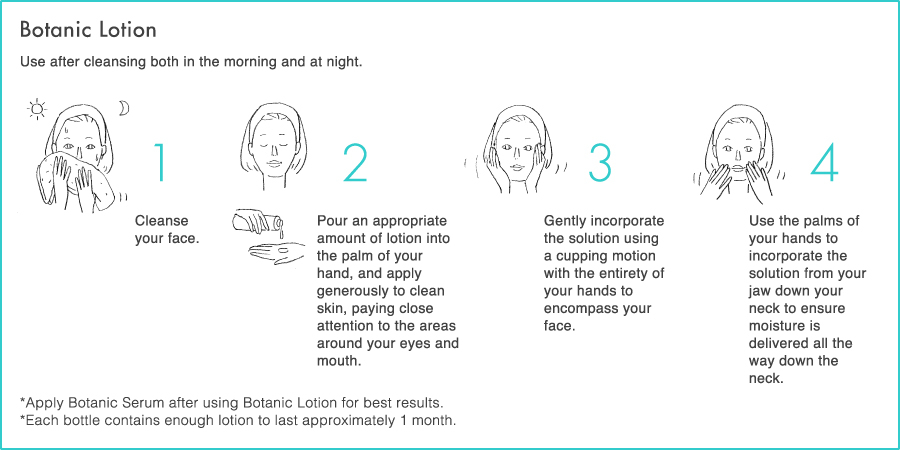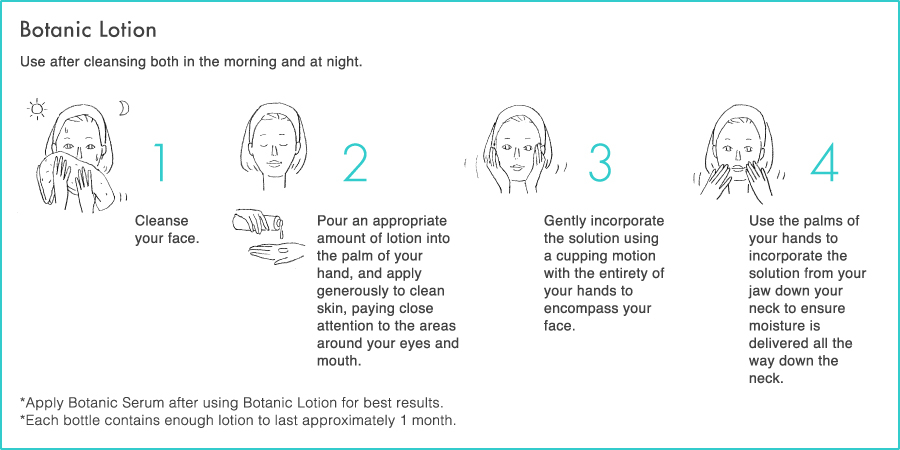 Botanic Lotion Ingredients
Water, glycerin, Sasa kurilensis water, BG, methyl gluceth-10, yeast extract, wormwood leaf extract, rosemary leaf extract, horse mackerel extract, lavender flower extract, glucosylceramide, dextrin, rice fermentation liquid, suizenjinori seaweed polysaccharides, arginine, citric acid, olive oil, lysolecithin, Lactobacillus / horseradish fermented extract, leuconostoc / radish fermentation liquid